In these strange and unprecedented times, when the only thing in the news is continual updates about Coronavirus, there is, what we hope is a little bit of a good news story on Channel 5 tonight.
Amber, our beautiful Golden Retriever, underwent two operations on her eyes when she was a young pup and the vet who carried out the surgery was none other than "The Yorkshire Vet" Julian Norton, so nothing but the best for 'Our Girl'! The whole story is on at 8.00 p.m. tonight, Tuesday, 31st March, from Julian's diagnosis and the operations, to Amber's success at the Lower Dunsforth Village Fete.
When she was about four months old, Amber developed a large pink swelling in the corner of one of her eyes. We thought at first that she had perhaps caught it when she had been rushing around the garden like all puppies do. We do have bushes and trees with plenty of low branches which she could have easily run into.
After we had made the first appointment at Rae Bean & Partners in Boroughbridge, Daisy Beck Studios, who produce the Channel 5 programme rang me to say that they thought it would make an interesting storyline and asked our permission to film the operation, by Julian, for "The Yorkshire Vet".
Julian is not only one of the stars of the T.V. programme, but, following in the footsteps of another famous Thirsk vet, is also the author of numerous books about his experiences as a veterinary surgeon in North Yorkshire.
His most recent book is "The Yorkshire Vet. The Next Chapter" which was published in January, 2020, his first, from 2016 was called "Horses, Heifers & Hairy Pigs – The Life of a Yorkshire Vet.". He has written several other books on a similar theme as well as articles every Saturday in the Yorkshire Post, one of which featured Amber following her visits to his surgery.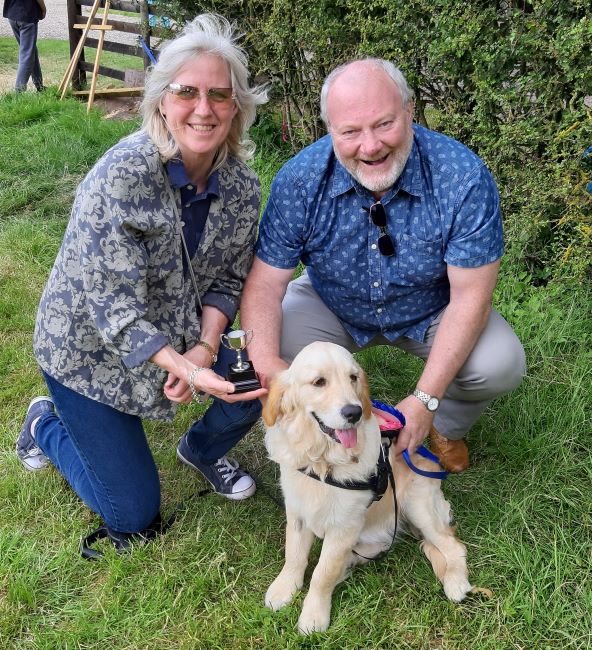 As pet owners rarely get to see what happens to their animals once they head through for pre-op sedation, it seemed like a good opportunity to see more of what goes on behind the scenes so we agreed and this evening's programme should reveal all about the operation to rectify what Julian diagnosed as "Cherry Eye". You will need to watch the programme to find out what that condition entails and how it can be rectified.
Amber has already appeared in a blog on the Care Home Finder website, in February, when we announced that she was to undergo training as a PAT Dog (Pets as Therapy), so that she could visit care homes, schools and other locations where people needed stimulation and cheering up. See the story at https://www.carehomefinder.org/pets-as-therapy-pat-amber-the-pat-dog/ That is unfortunately on hold at the moment, as a result of the current circumstances, but we will resume as soon as we are able to.
Part of that training is to get her used to being around plenty of people and different environments. We had planned this spring to take her out regularly to busy places, such as our local rugby club, where people always make a big fuss of her and she is around up to as many as 300 pairs of legs attached to lots of noisy, but friendly rugby supporters.
COVID-19 has put paid to this, at least until next season, or until we are through the other side of this unprecedented situation. People have always remarked, even since she was a young puppy, how calm she was, but being currently confined to social distancing, these experiences are rapidly becoming things of the past. She's a bit sad about that!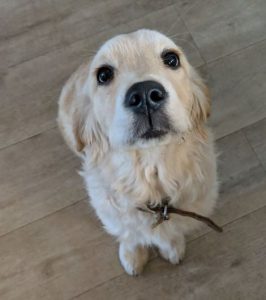 She loves attention and our son used to take her to his local pubs and other dog friendly venues where she frequently became their "meeter & greeter". Everyone wanted to pat her and take selfies with her, but all that is temporarily on hold until the virus is behind us all.
Anyway, we have no idea how she will come across on The Yorkshire Vet this evening but hopefully it will be a good news story in these peculiar times. If you miss it this evening, you may be able to watch it later on catch up. Enjoy!